Gift bundles curated just for you
Hi, I'm Jess!
Artist | Fabric + Surface Pattern Designer | Author | Online Teacher | Mama

I make art because I feel better when I do. My artwork, books, and classes are intended to point YOU toward your truest you, so you can shine your brightest and feel good, too!

MY WORK IS A BALM FOR MY SOUL. I HOPE IT WILL BE FOR YOURS, TOO.

THERE'S MORE! >
Art-Making and Your Intuition
A Beginner's How-To Guide for Using Art-Making as a Tool for Self-Discovery
INTRODUCING
THE INNER MAGIC ART CLUB
ENROLLMENT IS OPEN!
You'll love being a part of this magical, monthly, online creative community! Here's why:
Your skill level doesn't matter here (You don't even have to be an artist at all – promise!)
Live art-making sessions every month and the vibrant community and accountability that comes with it
Dive deep into your inner world, strengthen your intuition, and discover the magic of creative exploration
Let your creativity run free as you practice your skills and experiment with different prompts and techniques
Give yourself permission to play and make art without boundaries
Sound exciting? Then the Inner Magic Art Club is for YOU!
LEARN MORE >
INTRODUCING MY BRAND NEW ONLINE COURSE
UNLEASHED
It's you + me on Zoom, going deep, for 8-weeks.
In this highly interactive course, you'll dive into a world where art-making is a powerful portal into self-discovery, healing, and radical self-care.

Learn to tune into the wisdom that's already inside of you, waiting to be unleashed, and begin to change your life – one piece of art at a time.
Get on the waitlist to find out when enrollment opens again in 2024!
LEARN MORE >
Art For Self-Care
In Art For Self-Care, you'll discover the healing power of making art, and you'll learn how you can process feelings of stress, change, uncertainty, grief, and fear as you create.
I share stories from my life and my own art-making practice throughout the book, and it's, of course, filled with color and art!
BUY A COPY >
My Portfolio
Take a peek at my design portfolio. Here you'll get a taste of my work from repeating patterns, quirky hand-lettering, and vibrant illustrations, to fabric, journals, books, and so much more.
Check It Out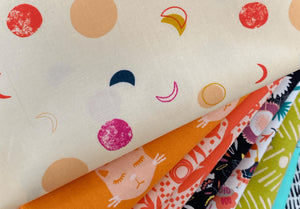 Licensing
Let's collaborate to bring my colorful, uplifting designs to your products and customers! Get in touch to learn more about how to license my work or hire me for a project.
Work With Me
PODCAST LOVE
Windowsill Chats Podcast with Margo Tantau
LISTEN HERE
Highlight Real Podcast with Josephine Kimberling
LISTEN HERE
Creative Ways Podcast with Emma Isaacs
LISTEN HERE
WHAT HAPPY CUSTOMERS ARE SAYING:
★★★★★

I have ordered cards and other items from Jessica Swift for years. (One year I gifted every one in the family with a "spirit animal" print.) Everything is packaged well, arrives promptly and looks great.

– Rosemary

Michigan
★★★★★

Jessica, I have loved using the first two oracle decks. It amazes me how the card I choose always seems to address the question I have asked. I can't praise you nor thank you enough for your wonderful talents.


– Florence

New Mexico
★★★★★

I love this hat! I'll be wearing it non-stop. The rainbow is so cute!

– Kati

Oregon
★★★★★

I love this magical print. I am going to give it to my granddaughter for her Birthday! She has made a special place under a table in their art room, just for herself and it will be a perfect message for her to see every time she enters her own space! Thank you,

– Kim

Washington
★★★★★

I love my Jessica Swift Peace hat! I bought it for my trip to Turkey where I have received many compliments! fun fashion from an amazingly talented designer/artist 😍

– Mary

Colorado
★★★★★

Your daily messages make my spirit soar.  Thank you so much!!!!!!!  


– Abby
★★★★★

I LOVE-LOVE-LOVE our Animal Oracle Deck! The matte finish on the cards is almost velvety and makes for a smooth shuffling of the deck. Your paintings translated beautifully to each and every card. And the handout with all the explanations is perfect. I also like that you encouraged users to ask for themselves "What does this card mean for me".

– Melissa
★★★★★

This rainbow peace shirt is amazing! It's not only beautiful but soft too. I received it within a week and have worn it twice already. Thank you Jessica! 🌈

– Paige

New Jersey